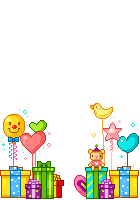 glitter-graphics.com
So we're in party planning mode...except that the skating rink provides pretty much everything we need so I constantly feel like I'm forgetting something! Cake and balloons are ordered...pizza, ice cream, game tokens, plates, napkins, forks, tablecloth all come from Skate World so I guess we're good to go.
Tay and I will be joining the Baylor team for the AHA Heart Walk at 8:30am on Saturday before heading to the skating party so we'll definitely get our exercise in for the day. She decided about a week ago she wanted to go back to Build-A-Bear for her birthday gift...but she also wanted Davey to go...so we'll be doing that tomorrow night.
In other news, school pictures were today so - of course - she got hit in the face playing dodge ball yesterday. Hopefully you can't notice the swelling in the photo...then again, even if you can, it certainly wouldn't be the worst thing that's ever happened to us...
We have been studying lots of math this week as Tay was having trouble rounding...she didn't really understand it the way it was presented in school so she needed some Mommy teaching. Knowing that I don't have a whole lot of patience and AM NOT a good teacher, it caused some tense moments...but we got through it and she's back on the road to success now!
Still have tons of pics from the last two weekends but I need to sort through them before posting...