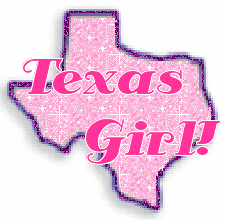 glitter-graphics.com

Miss Taylorbug had an absolutely fabulous time in Austin with Nana and Boppy! From the State Capitol to the Bob Bullock Museum of Texas History and The Great Duck Adventure to an Imax movie, she was definitely busy. Add in a trip to Joe's Crab Shack and "that cajun place on 6th Street" (those are exactly the words she used, lol) and you have a well-rounded weekend trip.
Oh, and she "went through myself" - aka, she drove through Taylor, Texas - and "went to a different country" - aka, drove through Holland ;-)...she was a bit tired when I picked her up yesterday but rallied long enough to take an hour long walk with me through the neighborhood. Did I mention our neighborhood has LOTS and LOTS of hills? Needless to say, it was a good workout...
Haven't gotten pics from Boppy yet but hope to do so soon...other than that, not a lot going on except that Tay will be in the Heart of Texas Fair Parade tomorrow night with her soccer team.