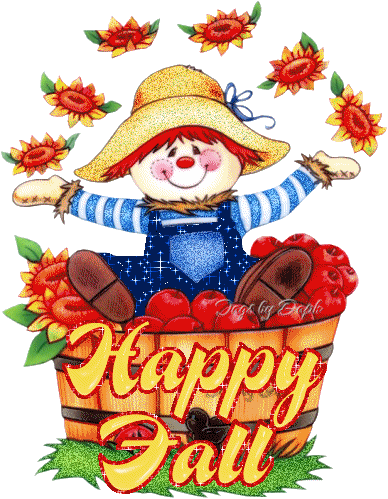 glitter-graphics.com

We've been enjoying much cooler weather this week with lows in the upper 50s and highs in the low 80s. I would love to see each of those numbers 10-15 degrees lower but, given that we had a stretch of 100+ that seemed to go on forever this summer, I'll take it! Temps are supposed to inch up through the weekend so I've recruited Dave to steam clean our carpets one last time before the fall and winter roll in.

Miss Tay's doing really well and I think she's starting to get the hang of this third grade stuff! She reads voraciously every night--they have to read at least 100 minutes each week (7 days) but she consistently more than doubles that--which makes us terribly proud. We've scheduled her 9th birthday party (amazing how she keeps getting older when I don't, lol) at the local skating rink and we'll be taking cupcakes to school for a class celebration as well.

The Bears are playing football at UConn this week so we won't have a game to attend this weekend. We did learn yesterday that Build A Bear has opened a store in our mall so we're going to surprise Tay with a trip on Saturday after her soccer game. She was a tremendous help last week and over the weekend around the house. With me being so sick and Dave having to work, she emptied the dishwasher, fed the dogs, changed laundry around in the machines and brought me snacks and liquids to keep hydrated--all without ever being asked! So this will be her treat for being such an awesome little one...

Dance and gymnastics are clicking right along and she's loving both classes. Soccer begins this weekend so that ought to be interesting...we changed teams just yesterday so we missed the Monday practice...basically, we're flying by the seat of our pants on this one :-)...

There are still many areas around us that are helping Hurricane Ike evacuees. The pictures from the coast are heart-wrenching and I just can't see how people will be able to live there for several months. Our church is helping with one of the evacuation centers so I'm going to get more information on Sunday about how we can participate.

Enjoy the cooler weather--and pray for it to last!!