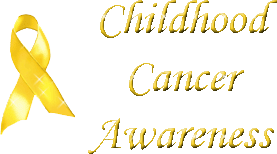 glitter-graphics.com

We made it through the weekend and really didn't feel the effects of Hurricane Ike very much. It was windy and drizzled most of the day on Saturday but we were spared from the worst of his wrath. There are so many who weren't, though, and it seems they have a long road ahead of them before returning to normalcy.

One of my sorority sisters, Jen, lives in Houston with her husband daughter, who was diagnosed with leukemia earlier this year. She's doing her second round of chemo right now and this was one family I knew didn't need additional complications from a hurricane. Thank heavens they only lost a couple of trees and part of their fence.

As you may already know, September is Childhood Cancer Awareness month. This is one area that doesn't seem to get nearly enough awareness. There are 46 children diagnosed with cancer each school day. That statistic just blew me out of the water! Knowing that we'll all be wearing pink ribbons for breast cancer awareness next month (which I wholeheartedly support as well), be sure to pick up a gold one for the kiddos this month...