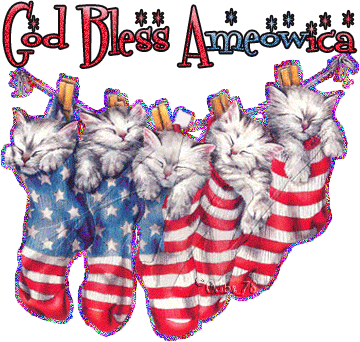 glitter-graphics.com

I was again reminded this morning that I'm to put patriotic graphics on Tay's blog for everyone to enjoy this week so I hope you like the choice...it was done in honor of Muffin!!

Tay had a BLAST at the fast food progressive dinner. They went from Wendy's (appetizer) to Burger King (main dish) to Dairy Queen (dessert). Apparently, they had too much fun visiting and laughing together to make the planned stop at Jack in the Box for side dishes. Taylor made some new friends before I even left the church and really enjoyed the responsibility of carrying her money and paying for her purchases. She even came home with change!!!

Tonight we're making a patriotic popcorn cake, complete with red and blue M&Ms...can you say Fourth of July?!?! I figure anything with marshmallow creme in it can't be too bad. The recipe says to add red and green candies for Christmas, brown and orange for Halloween, etc. So we're hoping it turns out well :-)...