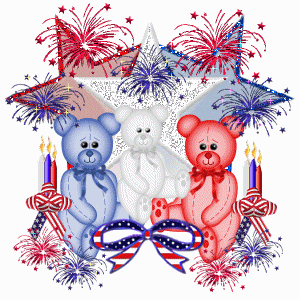 glitter-graphics.com

Happy July to all! I'm a bit bummed today as I only have 18 more days until I turn 30...worse things have happened to me, though, so I'm sure I'll survive. The best is yet to come--that's my motto and I'm sticking to it!!!

Tay enjoyed a lazy weekend and is now back in rare form. It's funny because last week she was so excited about VBS that it's all she talked about. This week she's catching me up on all of the field trips they had at summer camp last week. For instance, I now know all about Kung Fu Panda, which she enjoyed a GREAT deal. Aunt Erica got her Master Shifu this weekend, which is Po's (panda) sidekick. Needless to say, we've been learning kung fu...or some version of kung fu anyway.

Tonight she's heading to church for a fast food progressive dinner, which I think is a really cute idea. On Thursday, she's heading to Troy so she can go to the Belton Fourth of July parade on Friday morning. Then she'll head home for Fourth on the Brazos, the fireworks show in Waco. Hopefully, it'll be a quiet weekend since there are no golf lessons this week. This summer's just been so hot that it's exhausting!!! Bring on the fall...

Ok, stepping down from soap box :-)...I was instructed to begin putting patriotic graphics on the blog beginning on July 1st and going through July 4th...so enjoy as they're compliments of Miss Taylorbug!!!